The glazing economy is on rising. We are fascinated by the use of glasses in our homes and offices. Glazing and glass company have to handle numerous orders in a day. However, during the time of the pandemic, the business was adversely affected. The pandemic has put most of the physical businesses on the toss.
The lack of human workforce and negligible physical visit has compelled to reach out to the diverse source of solutions. Meanwhile, the inclination on digital space started exploding. Technology has helped to find the solution for different sectors. We have SaaS (Software as a Service) for storing data electronically, Augmented Reality for education, retail and so on.
Seeing the rising need for business management software in a glazing and glass company we have designed glazeforce. Glazeforce is exclusively developed for the glass and glazing industry. Let us see how glazeforce helps glazing and glass company to boost sales. But before that,
What is glazeforce?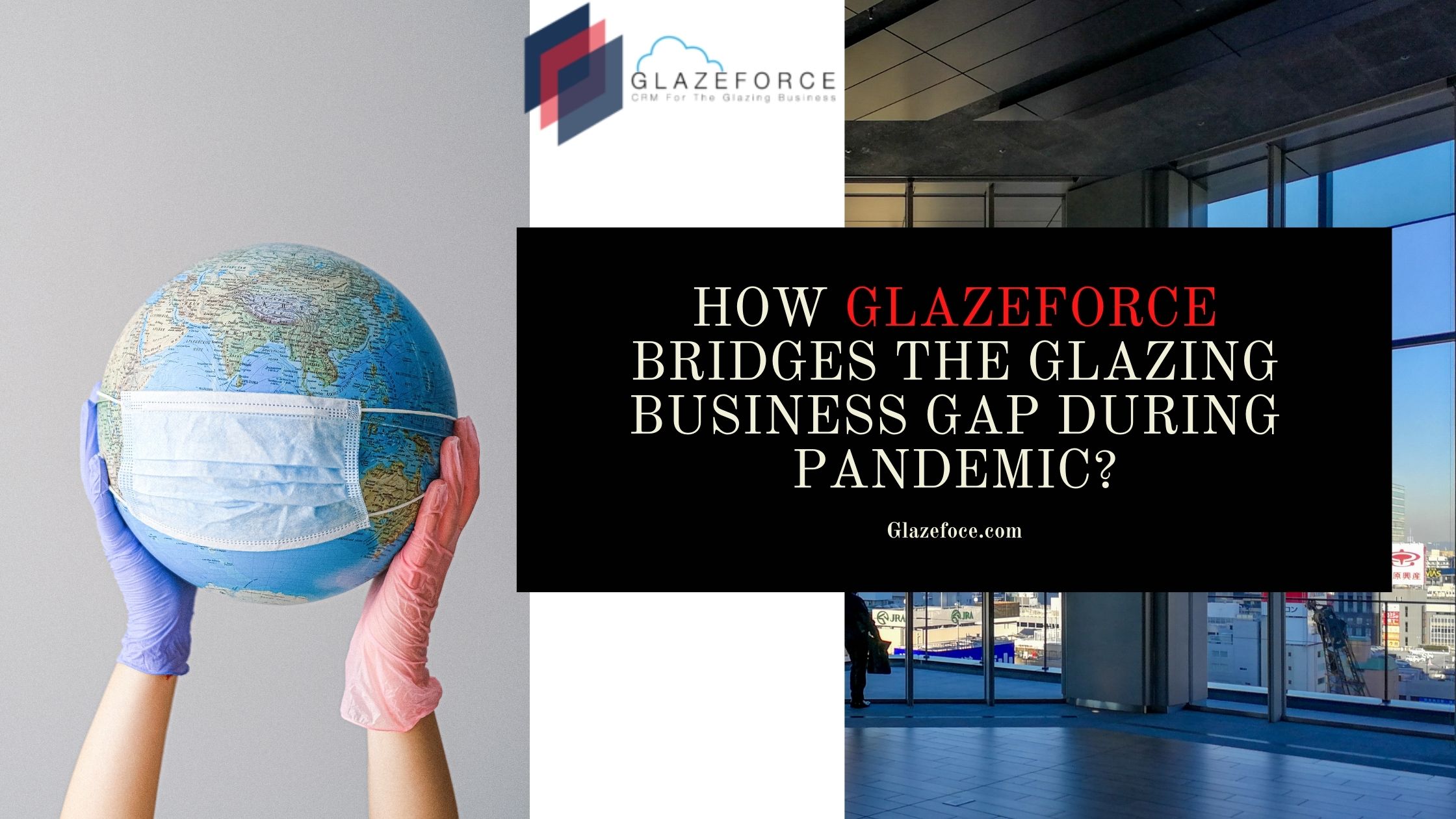 Glazeforce is a business management software built on the top of the Salesforce platform. The software is customized for the glass and glazing industry. Glazeforce helps in automating and optimizing workflow to speed up the entire process with accuracy. There are numerous steps involved from reaching out to leads to converting them into clients and offering them services. These steps involve surveys, payments, marketing, brochures, emails, quotes, orders. But, you can do all of these from a single software – Glazeforce- without jumping back and forth between different applications. The company believes in "Grow your business, not your software". We believe after using Glazeforce, "the opportunities to sell and convert leads just manifold 7 times".
Also Read: How glazeforce helps glazing company to resume business during a pandemic.
Benefits of using Glazeforce in glazing and glass company:
·
Faster conversion and sales:
Glazeforce sticks with you throughout the process from onboarding the clients to getting feedback. The software is structured to boost engagement and maintain a healthy relationship with clients. Let us understand with a case scenario, before using Glazeforce you personally or manually handle each lead. With the help of Glazeforce, you can automate the process and send quick responses. This builds relationship and facilitates faster conversion. Glazeforce is designed to help you nurture the client.
Glazeforce is a Custom Relationship Management software, that tracks customers' or potential customers' data. It fetches you data that helps you understand the perspective of customers. Glazing businesses use this data to customize their service as per customers' requirements. This ultimately boosts sales.
·
Better Feedback:
We are living in an era, where even before ordering food we check for feedback and reviews. That's how important feedback is! Here, a glazing and glass company deals with glasses. People need to be ensured the entire process is safe and convenient. Feedback is the only way to win the client. But how do get the feedback? No worries, Glazeforce will do this for you. Glazeforce has an in-built template that is sent over the email to the client. The CRM software encourages clients to leave positive feedback.
During the process, an automated email is sent to the client. The email includes options for quick payments and a feedback template. Glazeforce – the business management software- make the process a lot easier and quicker. Honest and positive feedback convinces potential customers about the authenticity and usability of the service.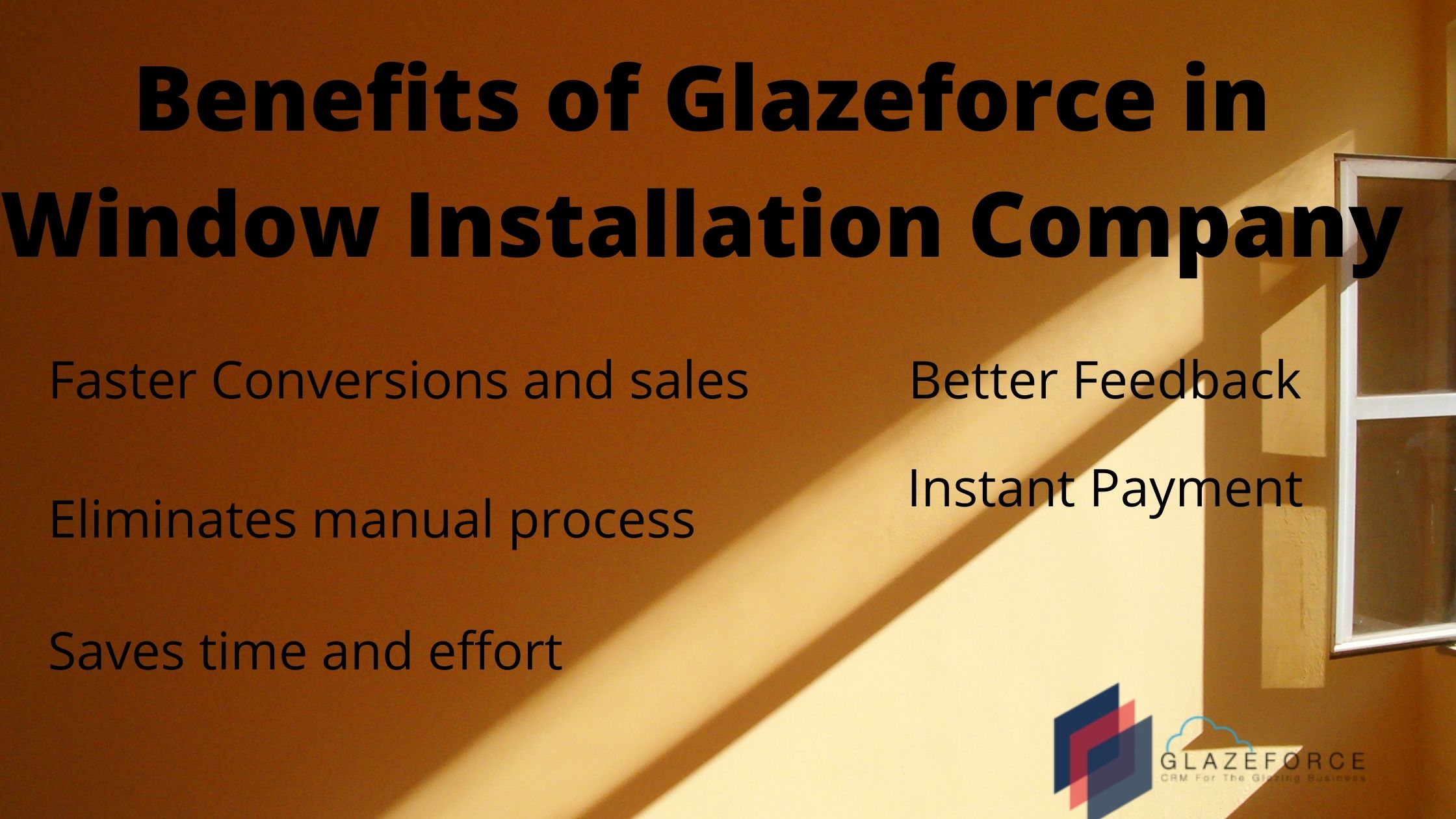 ·
Eliminates manual process:
The manual process is time taking and prone to human errors. Being a business owner you have to focus on multiple aspects of the business. Glazeforce handles most of the tasks that can be automated so that you can give your time to core business development.
Sending emails, following up, notifying suppliers, sending quotes, email campaigns invoices, etc. is efficiently handled by Glazeforce. The template is present in the software you just have to mention the name and the software will take care of the rest process meanwhile you can take care of your business. Glazeforce helps to automate glazing and glass company at every possible corner.
·
Saves times and effort:
Glazeforce saves ample time and effort for business owners. We are well-versed with the technical need of the glass and glazing company. Our clients believe Glazeforce has the ability of Einstein analysis. You need to go through lots of forecasting and prediction to scale your glazing business. You have to figure out the market demand, the maximum selling month, do competitor analysis, etc. Each of these processes is tiresome, arduous and time-consuming. You can save your time and effort by using Glazeforce. Glazeforce is CRM software that analyzes the data stored and makes business aware of the upcoming market requirement.
·
Instant payment:
Payments need to be hassle-free for a smooth and quick transaction. All customers are not comfortable with the same payment mode. Your aim is to make the service convenient for your customers, but how? You can use Glazeforce and allow your customers to pick whichever mode is convenient for them. Glazeforce offers multiple gateways for payment and also send email to customize and speed-up the payment. On top of this, Glazeforce keeps track of all the transaction and automatically add it to the accounting software.
Data says, "Windows and Doors Market size valued at USD 166.3 billion in 2019 and is estimated to exhibit over 5.9% CAGR from 2020 to 2026".
This data clearly states the rising need for Glazeforce. Let us see the statistics of the Glass and Glazing industry- " Projected value of fabricated flat glass demand worldwide from 2003 to 2023 varies from 38,800 million U.S dollars to 139,900 million U.S dollars." "In 2027, the global market value of flat glass is forecast to amount to nearly 203 billion U.S dollars."
The whooping growth indicates the need for automation to speed up the entire workflow. Make sure to grab the opportunity and get an edge over your competitors. We are living in a digitalized era, and business needs to go with the market need to sustain themselves proudly in the market.
Shall we have a virtual cup of coffee? Book the seat here before it gets full.